This is my first ONLINE SCHOOL that I've ever made.
So I've registered as a student twice. But I'm still working on it.
As of now, this is what I have, and it is working. You can see the URL in the top of the screenshots. The links IN THE MENU being viewed will be ROYAL BLUE.
THE FIRST TIME you click the "Student Dashboard" link in menu:
you get this REGISTRATION PAGE: "Dashboard"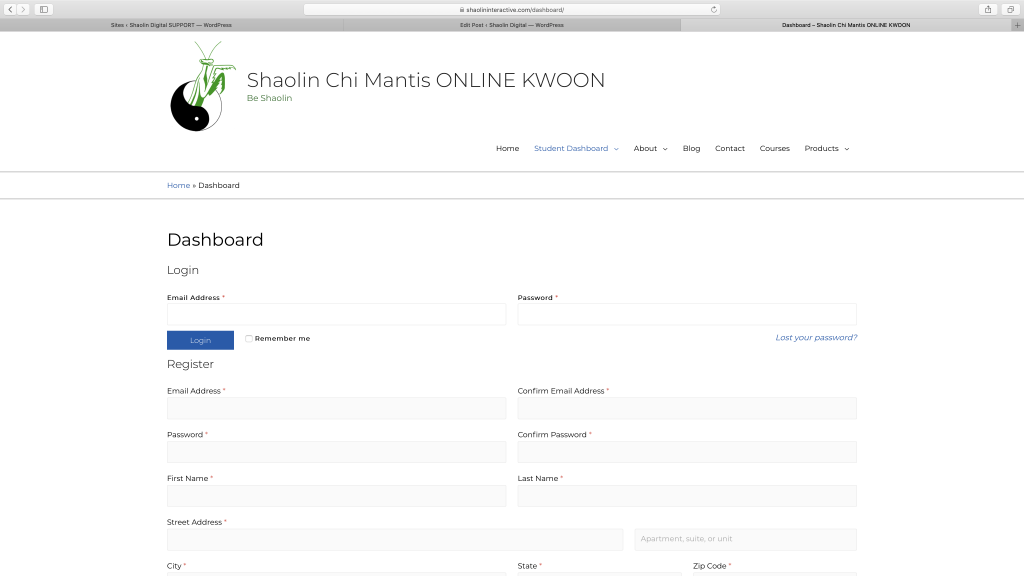 So YOU REGISTER for free and now you have a real "Dashboard" to work from and access. NO FEES will be charged later either. That's why I'm simplifying it to SELLING ONLY ENTIRE Belt Rank Levels. I don't have to be a bill collector any more. YAY!
The LINKS on left side will now be journeyed by us IN THIS BLOG of www.ShaolinDigital.com/blog
The FIRST TOP LINK is "My Courses" and you can see a screenshot below. All students should be able to put their "avatar" photo in that little circle to the right of "Products" in the MENU BAR.
The "My Courses" screenshot is "SCM-WHITE SASH Belt Rank Level" and I "Enrolled: March 7, 2020."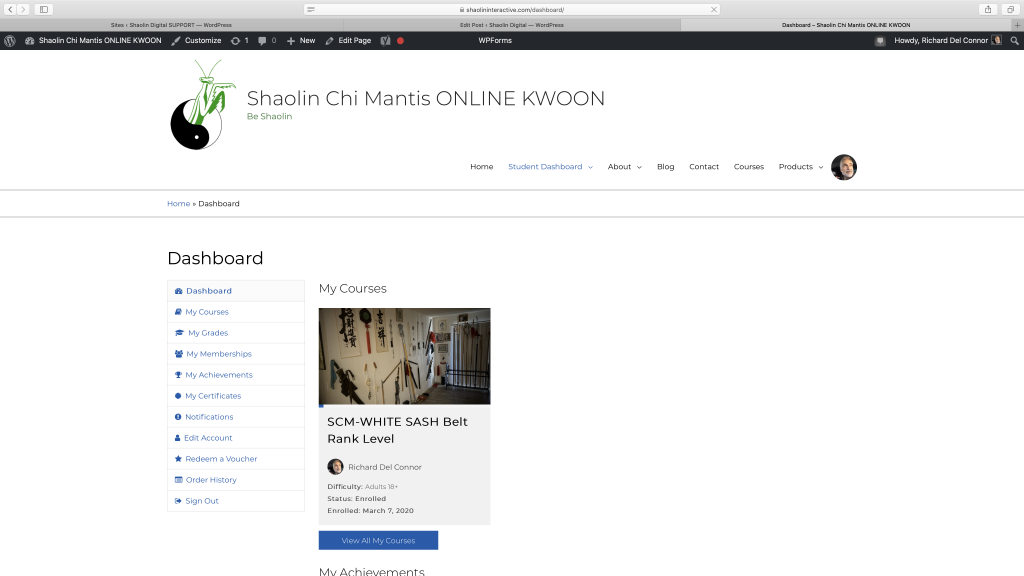 I need to research this more by perhaps creating more memberships and enrolling myself some more times…
As I recall, I could not access the course above without first obtaining a MEMBERSHIP for this belt rank level.
In other words, I'm setting up the classes so you cannot enroll in an advanced class when you are still a beginner level student.
Then I realized that I didn't even want students to obtain classes out of order within just the BEGINNER belt rank level. The fourth semester has jumping and spinning kicks I would never teach to students during their first semester or second semester.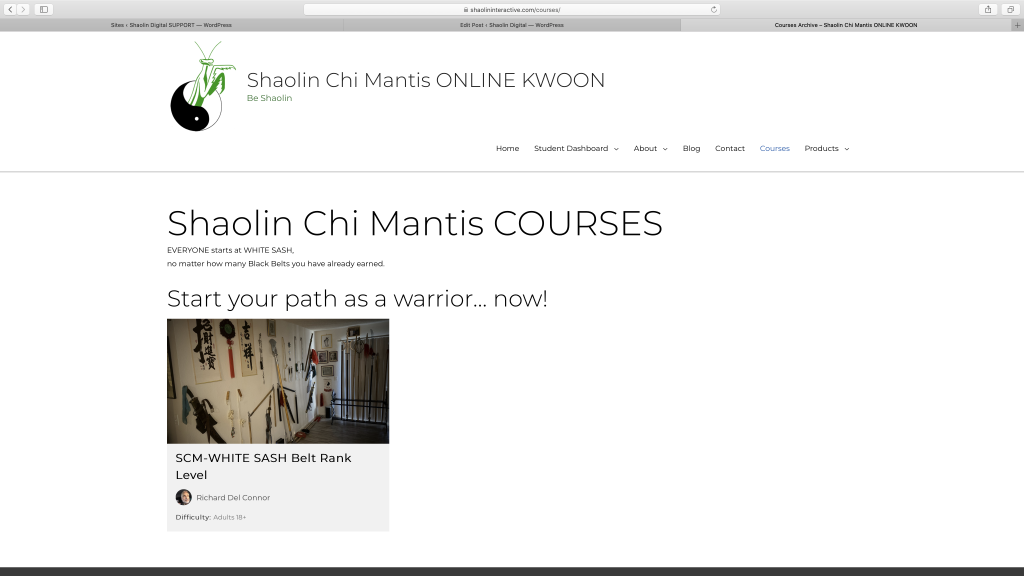 So you need a MEMBERSHIP.
I've already enrolled so when I CLICK the "My Memberships" tab in Left sidebar: we see my "SCM White Sash" MEMBERSHIP.
Now that you are a "SCM White Sash" student you can purchase and attend the SCM-WHITE SASH Belt Rank Level CLASSES.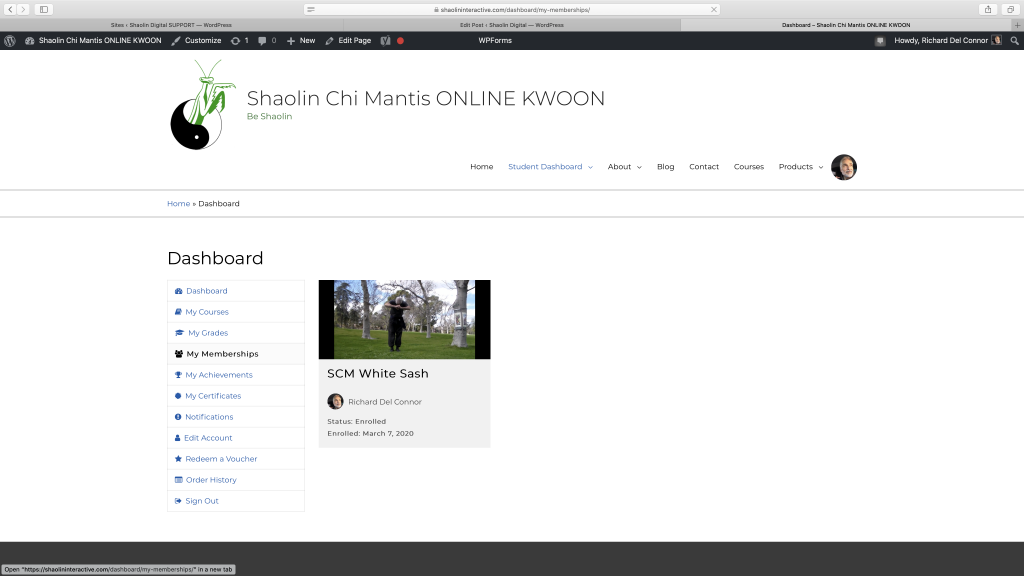 Okay. So you've:
REGISTERED as a Shaolin Chi Mantis STUDENT
CLICK on "Student Dashboard" in UPPER MENU. (BREADCRUMB says just, "Dashboard"). [I could change that…]
CLICK on "My Memberships" in LEFT MENU.
In UPPER MENU: CLICK on ARROW to right of "Student Membership" and CLICK "Membership Catalog"
CHOOSE "SCM White Sash" MEMBERSHIP
Now CLICK "Student Dashboard" and you are ready to go.
CLICK "My Courses" and CHOOSE your "SCM-WHITE SASH Belt Rank Level"
So if I understand what I'm doing–the "SCM-WHITE SASH Belt Rank Level" is what YOU are PURCHASING.
You, the student, are purchasing the entire belt rank level including belt testing, graduation, certificates, your new belt with a stripe on it, and all the monthly tests required of your level. There are about 80 classes per each belt rank level. If you subtract the uniform costs, and belt testing costs, you end up paying about $3.50 per class.
Since most classes are three classes per week per lesson and new section of the Kung Fu or Tai Chi Chuan: that means the classes are about $10.50 per week. Since most classes are going more than 90 minutes we'll compute that to be about 4.5 hours per week. So students are paying less than $3.00 per hour for class if we look at it that way.
The "My Achievements" PAGE in Student Dashboard is currently empty with a reminder from the computer:
"You do not have any achievements yet. Enroll in a course to get started."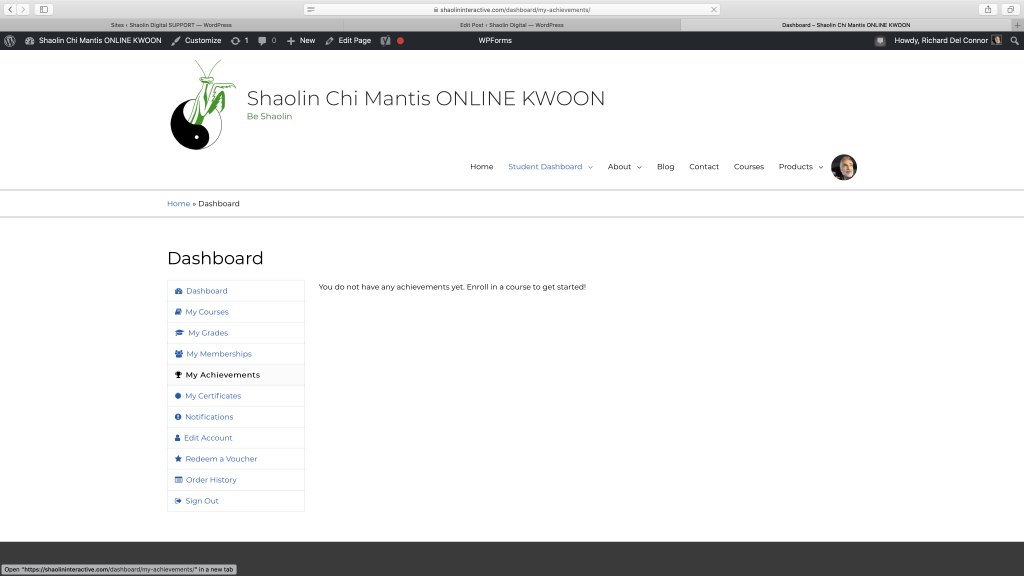 I decided to check and see if I had any report cards yet.
CLICK "My Grades" and I can see my currently registered class: SCM-WHITE SASH Belt Rank Level on March 7, 2020
There's a cool "Progress" bar and the "Grade" column. I'm not sure if that "100%" is there because I made it a REQUIREMENT that all quizzes have to be passed 100%. But you can retake them at least five times.
When I was testing the program last year I remember purposely failing the QUIZZES to see what would happen. I didn't get kicked out, but I remember getting this message "You have failed five times…" and I was unable to take the quiz again. I'm not sure if I fixed that or left it that way.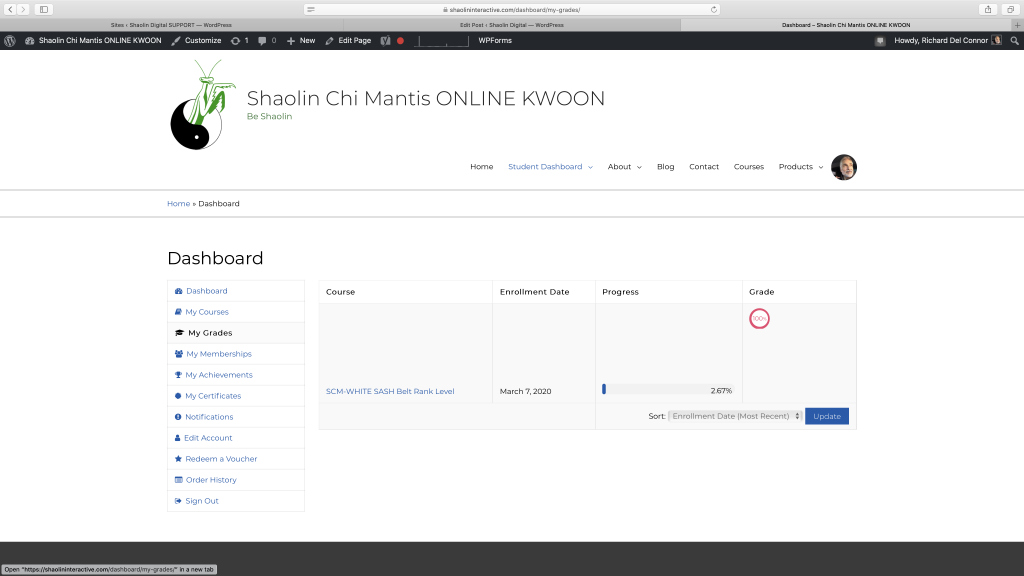 CLICK "My Certificates" in the LEFT MENU. I see, "You do not have any certificates yet."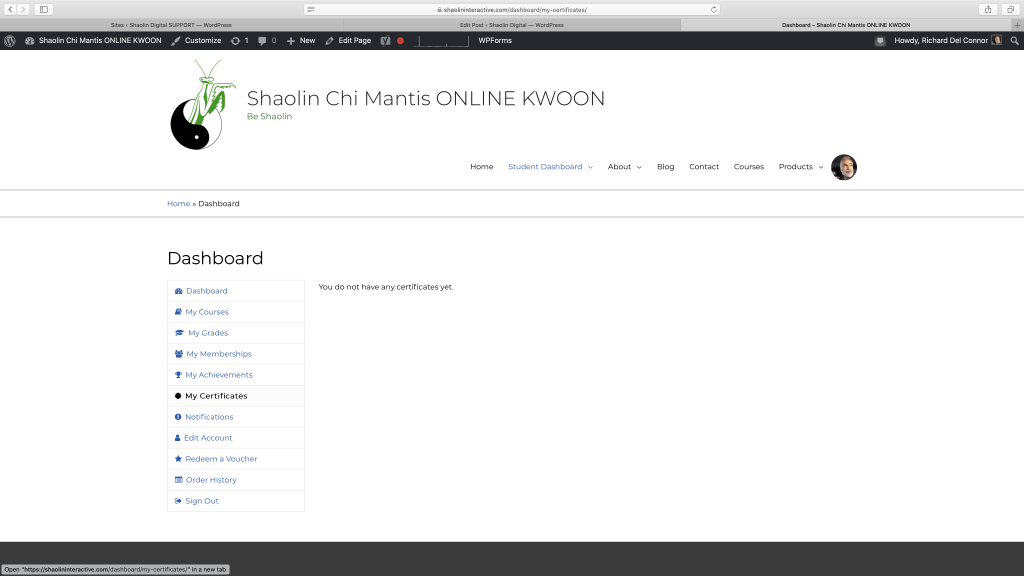 CLICK "Notifications" in LEFT MENU and you should see what I see below.
"Membership enrollment success!"
"Course enrollment success!"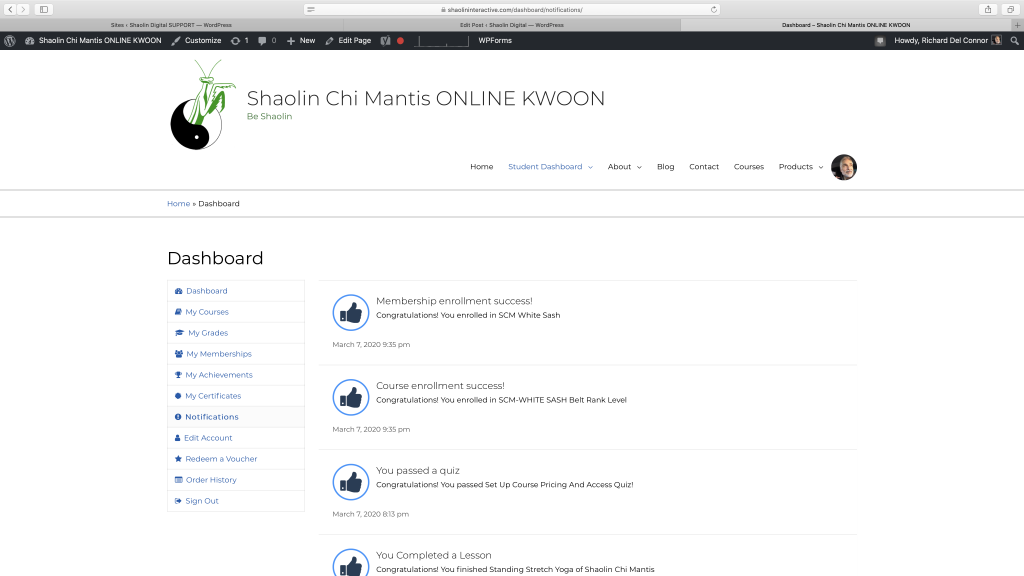 Voucher Redemption
TO REDEEM A VOUCHER:
Purchase "Membership" or "Belt Rank Level" to obtain for $988 an EMAIL with VOUCHER CODE.
CLICK: "Redeem a Voucher" in LEFT MENU of "Student Dashboard."
PASTE VOUCHER CODE into box below and then CLICK "Submit" button.
That's it. Everything should work now for your current SCM Belt Rank Level.
I can offer extra programs for free, but could require at least a student membership…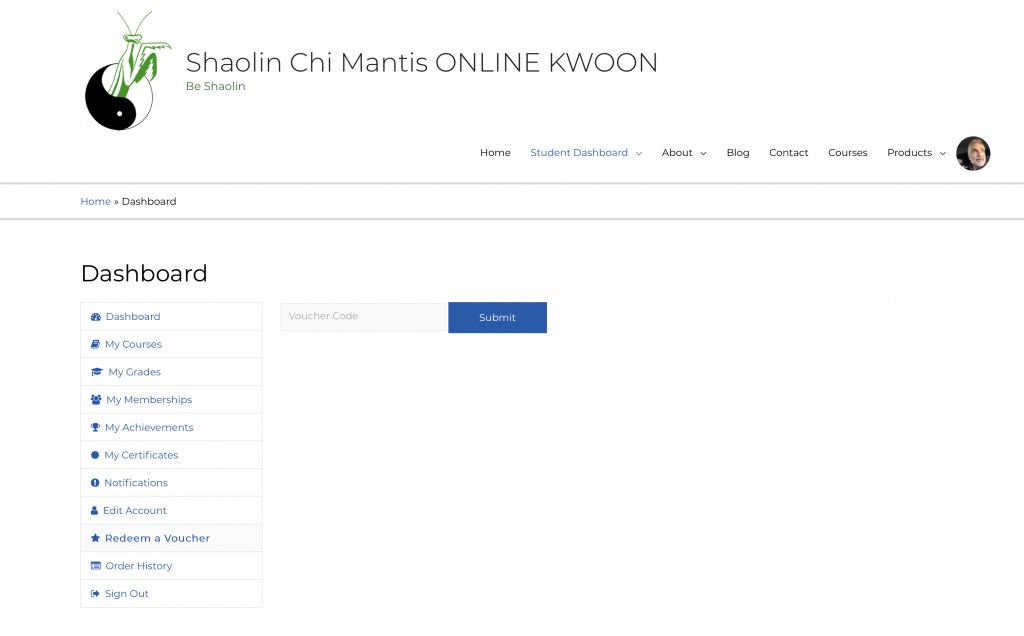 I clicked on "Order History" and discovered that I had made an order on October 6, 2019. That was when I was homeless. I hope I gave myself a good deal. All memberships are for one year, but somehow this is a "Lifetime Access" but probably just to the first SCM-WHITE SASH Belt Rank Level.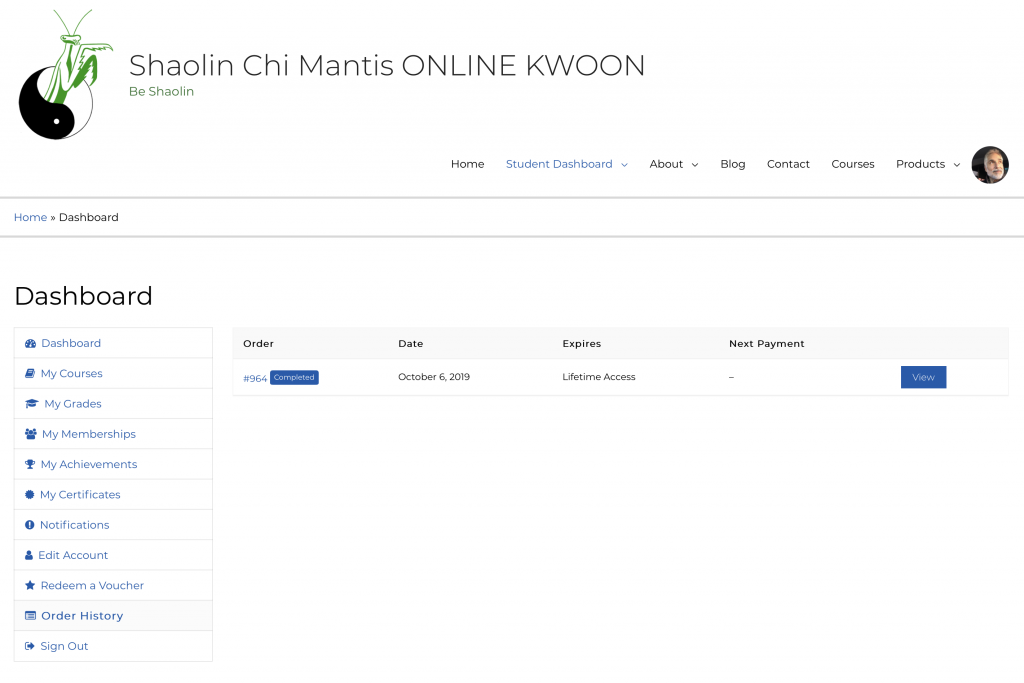 I double-checked. Yep. I gave myself a real good deal. I got "Lifetime Access" but it was to the SAMPLE COURSE that came with the software. I registered and took the SAMPLE CLASS program that the software developer provided.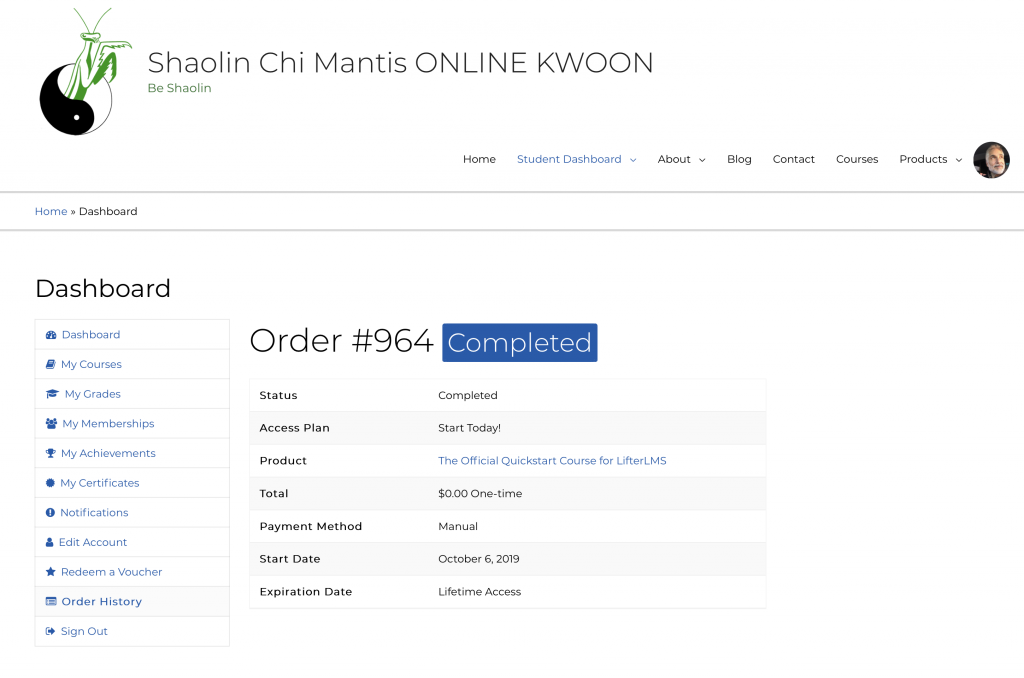 The FOLLOWING SCREEN is the MEMBERSHIP CATALOG page. I haven't finished the SCM White Sash + 1 Green Stripe classes yet. Perhaps I'll create it now to make sure people can't register in it before the SCM White Sash membership…